Description
   THE PINNACLE OF MULTI-FREQUENCY
COMPLETE FLEXIBILITY - Garrett's Multi-Flex technology, fueled by a cutting edge, broad-bandwidth digital platform, simply gives you more versatility with the Apex than can be found on any detector in its price range!
SIX DETECTION MODES + PINPOINT - Zero, Coins, US Coins (with coin icons), Jewelry, Relics, and Custom
HI-RESOLUTION GROUND BALANCE - 175 points of ground balance resolution (like the Garrett AT Max), ranging from ferrous ground to saltwater.
RECHARGEABLE BATTERY - Built-in rechargeable lithium ion battery provides up to approximately 15 hours of use, depending on setting. Micro-USB charging cable included.

IRON AUDIO - Garrett's unique feature helps to correctly identify complex iron objects, such as bottle caps.

DISCRIMINATION - Twenty pixels of Notch Discrimination, including 8 pixels of Iron.

BACKLIT LCD

VOLUME CONTROL - For both the built-in speaker and headphones.

BUILT-IN Z-LYNK WIRELESS TECHNOLOGY - Up to 6 times faster than Bluetooth. Hunt without the cords!

IRON VOLUME -  allows user to decrease the volume of iron targets, while the volume of non-ferrous targets remains at normal level. Experienced treasure hunters often like hearing all targets, but will appreciate the option to decrease volume of undesired items.
Lightweight - Well Balanced at only 2.5 Lbs
SIMPLICITY... WITH FULL CONTROL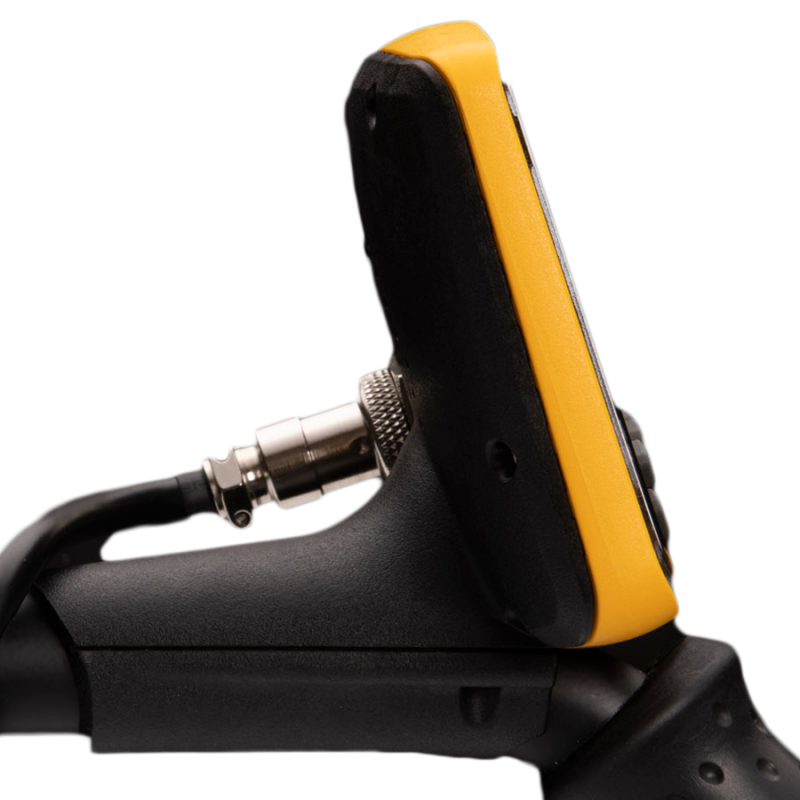 INTUITIVE AND EFFICIENT CONTROLS  - 
Direct drive buttons for most frequently used controls. Easy-access menu adjustments for other controls.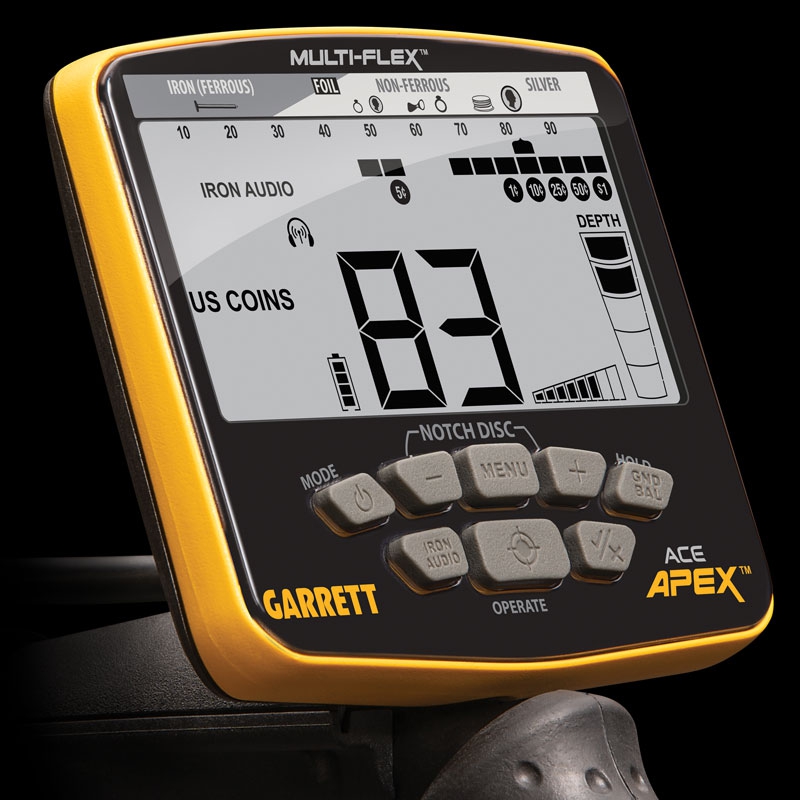 5-TONE AUDIBLE TARGET ID - 
Five distinct tones provide greater audible target identification than other Garrett detectors.
HYBRID AUDIO SYSTEM - 
The Apex target audio provides the simplicity of binary audio (found on existing ACE detectors) with the additional benefits of subtle proportional audio for faint targets.
EIGHT SENSITIVITY/DEPTH ADJUSTMENTS

1/8" JACK for optional wired headphones